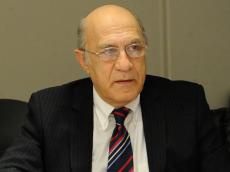 By Azernews
Qabil Ashirov
Armenian Prime Minister Nikol Pashinyan is playing with fire, Azerbaijani political analyst Fikrat Sadigov said in an interview with Azernews when commenting on the prime minister's statement on Azerbaijani territories.
"The Armenian prime minister, who supports the occupation of Azerbaijani lands, should not speak like this and make such statements. Actually, we have not occupied Armenian lands. They are still keeping under occupation a number of Azerbaijani villages in Nakhchivan and Gazax District. Its purpose is simply to blame Azerbaijan, and to portray our country as an aggressor state and ask Europe and the world community for help," the pundit opined.
Moreover, Sadigov touched on the press conference of Azerbaijani President Ilham Aliyev and German Chancellor Olaf Scholz in Berlin and said that Azerbaijan's purposeful and decisive foreign policy is bearing fruit.
"However, during the visit of the Azerbaijani president to Germany, many issues were clarified. The German chancellor declared that Germany has never recognized the so-called `Karabakh republic' and has no intention of doing so. This is a very strong statement and we appreciate it. I think that many European countries show such positions. If France's position on this issue is different, it is their own business, and we have given France quite curt answers. I think no new answers are needed and they heard us in Paris," he stressed.
The expert also mentioned that the European Parliament should not be confused with European Union with which Azerbaijan has very good relations.
"It is also a reality that the European Parliament is not the European Union. Azerbaijan cooperates with the European Union. We have signed bilateral agreements with nine European Union member states, and the current geopolitical reality shows that Europe needs Azerbaijan. Azerbaijan supplies Europe with gas and other natural resources. The EU understands this fact quite well. Even in the joint press conference in Berlin, the German chancellor stated it openly and clearly in his answers," Sadiqov emphasized.
The pundit thinks that Armenia is emboldened by some European countries, including France, adding that such kind of policy will cost Armenia dearly.
"Of course, Armenia wants to win time with such actions. By prolonging the matter, it is trying to evade the signing of a peace agreement. It seems that some European countries, for example, France, are close to Armenia, and it encourages her. Pashinyan gets the impression that the whole of Europe strokes his head; observers are deployed, and he is a politician, who relies on the presence of observers in the region. He thinks that he is already a close friend and partner of the European Union. But all this is nonsense. It is an absurd position. Finally, Pashinyan should give up this position if it wants to create a robust environment here in the region, and of course, if it wants to maintain its security. As before, Azerbaijan is ready to take an adequate step both at the diplomatic and military levels. Pashinyan should not forget this," the pundit concluded.