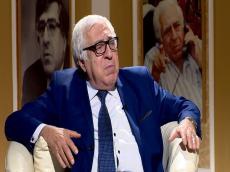 By Azernews 
President of Azerbaijan Ilham Aliyev has signed a decree on awarding Anar Rzayev with the Emek Order of the 1st degree.
Chairman of the Azerbaijan Writers' Union was awarded for his contribution to Azerbaijan's culture, Azernews reports.
Azerbaijan's prominent novelist and playwright Anar Rzayev has greatly contributed to the national literature by adding a number of brilliant works to the word treasury.
In his works, the writer focuses on moral and philosophical issues such as life and death, kindness and humanity.
At the age of 22, Anar succeeded to publish his first two stories (1960).
His famous works include "Longing for the Holiday", "The Rain Stopped", "White Port", "A Person's Person", "The Sixth Floor of the Five-Story Building".
Anar also wrote the scripts for various movies including The Land. The Sea. The Fire. The Sky, The Day Passed and Dede Gorgud. Moreover, Anar was the scenarist and producer of the film The Life of Uzeyir.
In 1976, Anar was named Honored Art Worker of Azerbaijan. He is a holder of the Azerbaijan State Prize (1980) and Istiglal Order (1998).