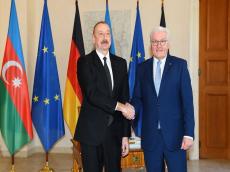 By Azernews 
Azerbaijani President Ilham Aliyev's 2-day working visit to Germany comprises many important nuances, especially having the character of a strategic dialogue with top officials and heads of leading German companies. Having met with his German counterpart Frank-Walter Steinmeier and Chancellor Olaf Scholz, president Aliyev once again directed all attentions to the peaceful settlement of the conflict in the South Caucasus. Besides, Azerbaijani President's meeting with Germany's company CEOs was of great importance in terms of further development of cooperation and economic relations between two countries.
In this regard, Armenian Prime Minister Nikol Pashinyan's early visit to Germany in the first week of March could also be considered an interesting nuance. However, the interesting part is not the meetings within the trip, but just the dullness of the trip. It should be noted that Pashinyan made a statement to the Armenian media during his stay in Germany and noted that during the visit he met with a number of partners, that is, the South Caucasus Friendship Group, which Armenia tries to seek in assistance, and, of course, President Frank-Walter Steinmeier as well as Chancellor Olaf Scholz. The most interesting moment is the lack of results. And, of course, Pashinyan saying as – "The main purpose of the visit is to try to better understand the view and perception of our German partners towards the Republic of Armenia, to try to make our positions on a number of issues more understandable" - once again shows that Armenia's hasty visit to Germany in such a premeditated manner was neither heart-warming for Pashinyan nor memorable for the Armenian society. Armenia was able to console itself with just one trivial point here; this is an abnormal resolution put forward by 5 pro-Armenian political groups sitting in the European Parliament. In fact, even such a small consolation can be seen as a success for Armenia. As regards the results, of course, it would be a more foolish decision than the resolution of the EU Parliament to put Yerevan's such attempts on a scale next to the success of Baku. Anyway... Losing in every field is the fate that Armenia has come to terms with.
Regarding the visit of the President of Azerbaijan to Germany, as well as the attitude of German leadership and diplomacy towards Azerbaijan, the following points can be considered very important:
As one of the leading countries of Europe and the world, Germany is revising its South Caucasus and Central Asia policy and considers Azerbaijan as a serious and important partner.

As of the current period, Germany has not been active in the South Caucasus region and has implemented its policy related to this region through Russia. Currently, Germany is showing its determination to expand its policy in the region, where it sees Azerbaijan as a key partner.

And most importantly, German Chancellor Olaf Scholz's response to the questions of media representatives saying - "Germany expressed its opinion at the international level back then by not recognizing Nagorno-Karabakh as a republic. In other words, we have expressed our position".