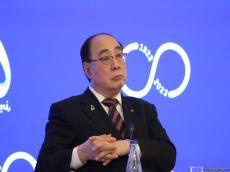 National leader Heydar Aliyev was a great friend of the Chinese people, who made an important contribution to the development of bilateral relations, Chinese Special Representative for Europe Wu Hongbo said.

He made the remarks at a conference themed "Heydar Aliyev - 100: life and heritage" organized by the Nizami Ganjavi International Center.
Hongbo noted the role of Heydar Aliyev in establishing friendly relations between the two countries, and also highly appreciated his contribution to the development of trade relations between the countries.
China's special representative said that one of the most important results of Heydar Aliyev's work was the improvement of the living standards of the people of Azerbaijan.
In this context, Hongbo noted that the national leader knew how to anticipate events, and this was one of the elements of his formula for governing the country.
"Heydar Aliyev created a formula for governing the country, based on a look into the future. He carried out important work, which resulted in the signing of the Contract of the Century," the Chinese official concluded.