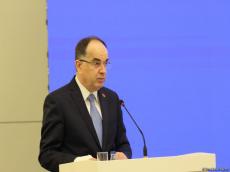 By Azernews
Sabina Mammadli
Heydar Aliyev was an outstanding global political figure, Albanian President Bajram Begay said.
He made the remarks at an event themed "Heydar Aliyev - 100: life and heritage".
The official emphasized that Heydar Aliyev was not only an outstanding leader for his country, people, the whole region, but he was also an outstanding personality at the global level.
Noting that Heydar Aliyev occupied a special place among world political leaders, the Albanian president said that thanks to his activities, Azerbaijan overcame various difficulties.
"He carried out reforms, established partnerships and managed to win the trust of the people. This is not easy, especially for countries in transition, but Heydar Aliyev wisely coped with this task. Azerbaijan has made significant progress in a short period of time. Heydar Aliyev became a visionary of the future of Azerbaijan. I admire the genius of Heydar Aliyev," Begay noted.
Speaking at the event, former Bulgarian President Peter Stoyanov stressed that Heydar Aliyev brought Azerbaijan to the world stage with his political wisdom.
"Heydar Aliyev had visions of the future and rich experience. He saved Azerbaijan from the difficulties and dangers that the country faced during the conflict. Currently, relations between Bulgaria and Azerbaijan are at a high level, and Heydar Aliyev played his part in strengthening these relations," Stoyanov added.
Then, ex-president of Latvia, co-chair of the Nizami Ganjavi International Center Vaira Vike-Freiberga stated that the national leader would be proud to see Azerbaijan in 30 years and that his special diplomatic skill was necessary for the creation of an independent Azerbaijan.
Similarly, former Turkish foreign minister Hikmet Cetin added that Heydar Aliyev would be very happy to see present-day Azerbaijan.
"When being president, Heydar Aliyev dreamed of peace and wanted to see a stable and prosperous region. Heydar Aliyev's dream was for Azerbaijan to become an active member of the international community," he added.
Furthermore, Former Egyptian Foreign Minister hailed Heydar Aliyev's contribution to economic development and stability in the Caucasus at an event.
"I was impressed by the knowledge and experience of Heydar Aliyev, his analytical ability and deep understanding of what was happening in the African and Middle Eastern regions. I'm confident in the successful future and development of Azerbaijan," Mousa added.