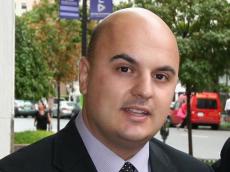 By Peter Tase
The Tenth Global Baku Forum took place in the Republic of Azerbaijan on March 9th until March 11th, 2023. Under the main thrust of "The World of Today: Challenges and Hopes"; President Ilham Aliyev's statecraft and dynamic leadership, showed the world the real essence of a necessary geopolitical round table that will always be remembered as the world's most important event in 2023. The Global Baku Forum, organized by the Nizami Ganjavi International Center, under the patronage of President of Azerbaijan Ilham Aliyev, a true statesman who has forged for many years the peaceful dialogue among nations, defended democratic institutions; safeguarded International Commerce and economic progress in Eurasia.
In remarks for Azernews, the US-based expert hailed Azerbaijan's organization of an event of this scale.
The Forum was attended by high-ranking guests from dozens of countries, among them current and former heads of states and governments, Nobel prize laureates and diplomats.
The participation of President of Latvia Egils Levits was a historic opportunity that will further bond the strategic ties between Latvia and Azerbaijan. The Latvian Head of State gave a keynote address to participants of the 10th Global Baku Forum. President Levits praised Azerbaijan for the successful Chairmanship and coordination of the Non-Aligned Movement. This movement unites 120 countries and has been internationally recognized as a platform that supports cross-cultural dialogue and geopolitical discussions.
Global Baku Forum tackled some of the major issues that nations are facing today, from economic policies to transportation management and logistics. Azerbaijan has demonstrated before the entire world that it is an avant-garde nation when it comes to holding large-scale international conferences that shape a genuine global impact and foment a candid dialogue for the betterment of humanity.
While faced with a harsh economic reality where countries and citizens are faced with existential threats and environmental degradation – Azerbaijan is a nation that continues to greatly suffer from environmental terrorism committed by Armenian Government autocrats - this forum had the propensity to find solutions and address ongoing challenges with commitment, resolve and effectively.
Azerbaijan has invested so much effort and energy to uphold international law, the rules-based international order that emerged in 1945.
Other participants in this prestigious conference were: former Prime Minister of Israel Ehud Olmert, and Uganda's Winifred 'Winnie' Karagwa Byanyima, Executive Director of the Joint United Nations Programme on HIV/AIDS (UNAIDS).
President of East Timor José Manuel Ramos-Horta, also participated in the Global Baku Forum; he is also a Nobel Peace Prize laureate.
Furthermore, the Hon. Khuon Sodary, Second Vice President of the National Assembly of Cambodia, delivered a speech.
Ambassador Claudio Taffuri, of Italy in Azerbaijan, was also participating in this global round table.The Republic of Azerbaijan, under the vision and fortitude of President Ilham Aliyev, has made an exceptional contribution towards establishing new alliances and reshaping the strategic roadmap of European nations as well as building a consolidated path for European and Asian Economics; while simultaneously serving as a catalyst for renewable energy projects that will transcend borders and continents.