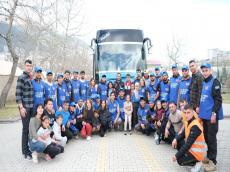 Azerbaijani volunteers, who have been carrying out a mission in the earthquake-affected areas in Türkiye, have fulfilled their duty and are returning to their homeland, Azernews reports.
The Azerbaijani delegation consisting of 150 volunteers provided various supportive humanitarian services to tens of thousands of quake victims. It should be specially noted that this will be remembered as the first voluntary activity of Azerbaijani youth organized in the direction of humanitarian aid in a foreign country, both in terms of duration and number.
The European-Mediterranean Seismological Center reports that on January 6, a 7.4-magnitude earthquake hit central Turkiye. The epicenter of the earthquake was 26 kilometers off Gaziantep with a population of about 1.06 million. The earthquake's epicenter was located 7 km below the surface. According to Turkiye's Disaster and Emergency Management Authority, three more earthquakes with magnitudes of 6.4 to 6.6 shook the province of Gaziantep in southeastern Turkiye.