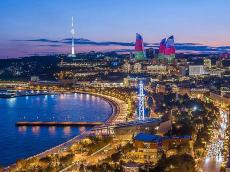 By Azernews
Elnur Enveroglu
With the organizational support of "the Nizami Ganjavi International Center (NGIC), Baku, the capital of Azerbaijan is hosting its 10th Global Baku Forum under the motto "The world of today: challenges and hopes" on March 9-11, 2023".
Recall that the previous event - the 9th Global Baku Forum under the motto "Challenges to the Global World Order" had been organized by NGIC under the patronage of President Ilham Aliyev, on June 16-18, 2022, having brought together representatives of more than 50 countries and reputable international organizations. And today, as the main topic the world we live in with its challenges and hopes for future is going to be the point of discussion.
It is no by accident that Azerbaijan is becoming a hub for bringing all issues in discussion at the forum being held today. And this gives Azerbaijan another opportunity to utter her needs and expectation within the discussions, especially the ongoing challenges towards achieving peace in the region regarding the relations between Azerbaijan and Armenia.
Development of relations starts from efforts towards peace – What Azerbaijan expect from Europe
Prior to the forum, president Ilham Aliyev's meeting with his Latvian counterpart Mr Egils Levits in fact, had many things to say about Azerbaijan's expectation from the European Union. The official visit of Latvian president in Baku also looked like much to Europe's concern of Baku's interests of exporting energy to the west. During the meeting speeches of diplomats clearly manifested the mutual needs of some collaborative actions.
"Political dialogue and economic cooperation, I think, demonstrate our mutual political will in establishing closer relations between us. Also, Latvia plays important role in EU-Azerbaijan cooperation, which develops very successfully. We have signed or adopted declarations and agreements on strategic partnership with nine members of the European Union, which is one third of member-states. This really is a good platform for agreement, which is now being negotiated between Azerbaijan and European Commission. Absolute majority of the agreement is already agreed. So, we need to make final steps. Hopefully, we will do it sooner than later."
President Aliyev's words in this statement mainly targeted to remind Europe of how Azerbaijan's political role is weighty, and it is becoming more and more.
Besides, while the ongoing war in Ukraine increases needs for energy supply, it urges Europe to come closer to Azerbaijan as well as to hear more of its regional issues related to is neighbor - Armenia. The only hope is that we have much common to understand each-other – conflict in Ukraine and its impact on Eastern Europe and the Azerbaijan-Armenian relations, the regional peace.
Another piece of the statement of president Ilham Aliyev was more about to mention Azerbaijan's responsibility to the commitment of its partnership.
"At the same time, Azerbaijan becomes for the European Union more important partner with respect to the energy supplies. We always were considered by the European Commission as a reliable partner. Today we export oil, natural gas, electricity, petrochemicals, oil products and hopefully soon we will start to export green energy. A corresponding agreement between Azerbaijan, Georgia, Romania and Hungary, which was witnessed by Madamme President of the European Commission, was signed last December in Bucharest. So, this is really a global, mega project, which comes right after the completion of another mega project, which was the Southern Gas Corridor."
By expressing this in his statement the president of Azerbaijan mainly tried to make an appeasing notes in response to EU's concern of energy. However, the president also directed the attention of EU to the main issue - the conflict in the South Caucasus. Because the development of relations starts from efforts towards peace. While Europe's interests and needs pass though Azerbaijan, it makes important the EU Commission and all political actors to maximize their efforts and to make Armenia to give up her empty dreams.
"We expect that Armenia will not lose time and will positively respond to our proposal, which is supported by many international actors. Despite devastation and long lasting occupation of our territories, we think that page of hatred must be turned down. We need to look to the future and to establish a peaceful Southern Caucasus. We see the benefits of close cooperation and integration between Baltic countries. We lived in the same country for many years together. So, they managed to establish a close cooperation. Now they are members of EU for many years, members of NATO. They successfully develop. Unfortunately, in the South Caucasus, we had different picture. We had wars, separatism, terrorism, extremism. Now it's time to put an end to that and if it happens, then Southern Caucasus countries like Baltic countries of former Soviet Union, will also have a chance for peaceful and prosperous development."
President Ilham Aliyev's above speech once again underlined Azerbaijan's goodwill and deep aspiration for making peace in the South Caucasus amid the start-up process of Azerbaijan's mega energy project towards west. Because it's time to put an end to conflicts and boost the economy. There can be no talk of development and revival in a place where there is no end to conflicts, where there is no peace and reconciliation.