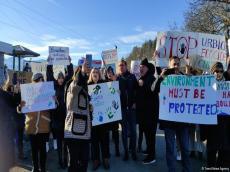 By Aytac Seyhunqizi
As in previous days, today is also seeing the passage of the Russian peacekeepers' vehicles unhindered through the area of the peaceful protest of the Azerbaijani eco-activists on the Lachin-Khankandi road, Azernews reports.
Today marks the 86th day of Azerbaijani eco-activists' protest on the Lachin road in protest at the looting of Azerbaijan's natural resources by the separatists in Karabakh in concert with Armenia.
On March 7, since early morning the eco-activists in the area have been providing unhindered access to all types of vehicles used for humanitarian purposes and conditions have been created for the passage of ambulance and military-purpose vehicles, as well as 13 security and three passenger cars of Russian peacekeepers from Khankandi towards Lachin through the venue.
Contrary to the unending Armenian libel campaign that the road to Karabakh is blocked, this once again proves vice versa that the picket is not about hindering the movement of humanitarian purpose vehicles.
The Armenian media reports about the protestors reportedly blocking the Khankandi-Lachin road and disallowing the security vehicles pass the area remain as part of Armenians' wide-ranging media campaign aimed at casting a shadow on Azerbaijan's efforts to restore peace and order in the troubled region.
At the time of writing, reports from the region said that conditions were created for the unhindered passage of 25 security and three passenger vehicles of the Russian peacekeepers from Lachin to Khankandi through the venue of the picket in addition to what was mentioned above.