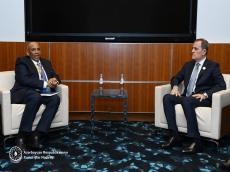 By Azernews 
Azerbaijani Foreign Minister Jeyhun Bayramov and Director of the UN Technology Bank for Least Developed Countries Taffere Tesfachiu discussed the role of technological assistance in the development of these countries in various fields.
According to Azernews, the meeting was held within the framework of the Fifth UN Conference on Least Developed Countries (LDC5) on March 5.
The Azerbaijani official informed his interlocutor about the projects and initiatives implemented by the country in the direction of providing humanitarian aid, including development assistance to the least developed countries. In this regard, he also emphasized that projects aimed at the development of human capital in the least developed countries are of priority importance.
Azerbaijani minister also pointed out that Azerbaijan's International Development Assistance Agency, operating under Foreign Ministry, implements international aid programs in various spheres, including education, health, infrastructure, and management. He then briefed about the current situation in the region in the post-conflict period, the large-scale restoration and construction work carried out by Azerbaijan in its liberated territories, including the efforts made by Azerbaijan in the direction of advancing the peace agenda, and the provocations of the Armenian side.
In turn, Tesfachiu underlined that the Bank's main goal is to support its economic and social development by providing technological assistance to the least developed countries of the world. He also stated that Azerbaijan's international aid policy in this direction is commendable and emphasized the importance of strengthening global efforts in this regard.