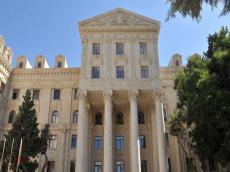 The so-called Armenian army continues to violate the provisions of the Trilateral Declaration signed on November 10, 2023, Azernews reports.
"Contrary to the provisions of the Trilateral Declaration signed on November 10, 2020, using the Khankendi-Khalfali-Turssu land road, the Armenian side continued to transport weapons and ammunition, personnel, including mines, to the territories of Azerbaijan, where the peacekeeping contingent of the Russian Federation is temporarily located," the Foreign Ministry states.
The Foreign Ministry noted that Armenia did not stop its provocations even after the 44-day Patriotic War, which ended the 30-year occupation of our territories; Armenian armed forces has not been completely withdrawn from Azerbaijani territories;
"The transportation and deployment of weapons, ammunition and mines produced in the Republic of Armenia in 2021 to the territories of Azerbaijan are being carried out. The facts of the planting mines were demonstrated during the visit of the Turkiye-Russia Joint Monitoring Center to the region," the MFA said.
On March 5, Azerbaijani Defense Ministry got information about illegally transporting ammunition, mines, and military personnel using the Khankendi-Khalfali-Turshsu land road which is the secondary road and alternative to the Lachin-Khankendi road. In order to verify and clarify the received information Azerbaijani Armed Forces tried to stop the mentioned vehicles for inspection. At this time, as a result of the fire from the opposite side, there are people killed and injured by the Armed Forces of the Republic of Azerbaijan. The other party was neutralised by the return fire launched by our Armed Forces.
"Such acts of aggression and provocations demonstrate that Armenia has not abandoned its occupation policy against Azerbaijan, that Armenia's views on the peace agenda are nothing but hypocrisy, and that Armenia is not interested in establishing peace and security in the region. These actions once again prove the necessity of applying the border control-exit regime between Azerbaijan and Armenia.
In order to prevent such military provocations, the Azerbaijani side demands the implementation of the Trilateral Declaration, an end to the transportation of illegal weapons and ammunition, personnel and mines from Armenia, and the immediate withdrawal of the Armenian armed forces from the territories of Azerbaijan," MFA added.