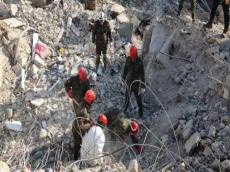 Following the instruction of President of Azerbaijan Ilham Aliyev, Azerbaijan's Ministry of Emergency Situation continues to work on the elimination of the deadly earthquake that hit Turkiye.
In total, the search and rescue team of the Ministry that was sent to Turkiye has saved 53 people and pulled 780 people out of rubbles so far in quake-stroke Kahramanmaras and Hatay regions in Turkiye, Azernews reports.
According to the local media, the rescue team handed over the gold and jewelry found among the rubbles in Hatay to the local police.
The European-Mediterranean Seismological Centre reports that on January 6, a 7.4-magnitude earthquake hit central Turkiye. The epicenter of the earthquake was 26 kilometers off Gaziantep with a population of about 1.06 million. The earthquake's epicenter was located 7 km below the surface.
According to Turkiye's Disaster and Emergency Management Authority, three more earthquakes with magnitudes of 6.4 to 6.6 shook the province of Gaziantep in southeastern Turkiye.