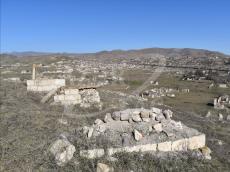 Azerbaijan has kicked off the works on the design of villages in the liberated Jabrayil and Gubadli Districts, the president's special representative in Jabrayil, Zangilan, and Gubadli Districts Vahid Hajiyev said.
He made the remarks during a media tour of Zangilan District, Azernews reports.
The official emphasized that a preliminary draft of villages has been developed, noting that construction work will happen in stages and take at least a year and a half.
"In general, construction work on these territories and the resettlement of residents will be carried out within the framework of the State Program for 2022-2026. During this period, it is planned to relocate thousands of people to these areas," he added.
Further, he stressed that the earthwork had been completed by 90 percent as part of the construction of the Gubadli-Eyvazli highway, which will open access to Armenia's Gorus-Sisian road. Moreover, the highway will provide a second exit to East Zangazur.
The minister added that the road will be ready and commissioned in May-June this year.
To recap, following the Action Plan of the StateProgram, construction activities are to be carried out, irrigation water will be provided for ??12,100 hectares of area in Gubadli and Zangilan Districts based on the design documentation for the Zabukhchay reservoir and the major pipelines extending from it.
Azerbaijan plans to build the gas distribution network in liberated Aghdam, Fuzuli, Shusha, Khojavand, Zangilan, Kalbajar, Lachin, Gubadli, Jabrayil, Tartar and Khojaly Districts from 2022 through 2026 following the Action Plan.
SOCAR must ensure the construction of the Aghdam-Khankandi gas pipeline and pipeline branches by 2025.
Moreover, the attraction of private investments to the construction of settlements and the creation of a public-private partnership will be ensured in the liberated territories of Azerbaijan from 2022 through 2026.