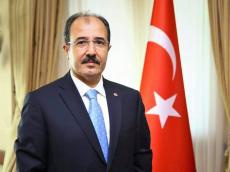 Azerbaijan has sent more than 750 tons of food to quake-hit regions in Turkiye so far, Azernews reports, citing Cahit Bagci the Ambassador of Turkiye to Azerbaijan.
"Azerbaijan meets Turkiye's needs for tents and containers. What are our needs, what work can we do in this direction - we continue to discuss all these issues. Today, 26 container houses will be sent from Azerbaijan to Türkiye," Bagci said.
The ambassador is happy with the aid from Azerbaijan and expressed his gratitude.
"Thank you again for this help. Azerbaijan has mobilized all its forces to ease the living conditions of the earthquake-affected people. For this reason, I once again thank the Azerbaijani people," the ambassador noted.
The European-Mediterranean Seismological Centre reports that on January 6, a 7.4-magnitude earthquake hit central Turkiye. The epicenter of the earthquake was 26 kilometers off Gaziantep with a population of about 1.06 million. The earthquake's epicenter was located 7 km below the surface.
According to Turkiye's Disaster and Emergency Management Authority, three more earthquakes with magnitudes of 6.4 to 6.6 shook the province of Gaziantep in southeastern Turkiye.