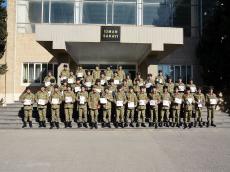 The Azerbaijan Army's Training and Educational Centre hosted graduation ceremonies for the "Reserve Officer Training Course" and "Training course for long-term Active Military Servicemen."
Referring to Azerbaijani Defence Ministry, Azernews reports that first, a minute of silence was observed to honour the memory of national leader Heydar Aliyev, martyrs who gave their lives in defence of Azerbaijan's independence and territorial integrity, as well as those who died as a result of the earthquake in brotherly Turkiye. The event was then followed by Azerbaijan's National Anthem.
Speakers at the ceremonies wished the graduates success in their future service and congratulated them on their successful completion of the course.
The graduates pledged to use the theoretical knowledge and practical skills they acquired during the course and carry out their duties effectively.
At the conclusion, graduates received certificates, as well as taking photos.