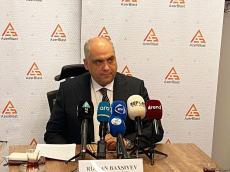 AzerBlast LLC plans to produce 500 tons of explosives per month and 6,000 tons per year in the initial phase in Azerbaijan.
Azernews reports that AzerBlast LLC held a briefing on the construction project of the industrial explosive production plant.
In the briefing, the executive director of AzerBlast Rizvan Bakhshiyev spoke about the company's history and noted that the AzerBlast was established based on the public-private sector partnership model and was registered on March 9, 2021.
"The company is a subsidiary of AzerGold CJSC, specialising in the production of industrial explosives. Some 51 percent of the total shares of AzerBlast belong to AzerGold JSC, 49 percent to DM Servis LLC," he added.
According to him, AzerBlast LLC is constructing the industrial explosive plant in Ganja, in accordance with the state policy on the socio-economic development of regions. The plant will be the first enterprise producing industrially important explosives in Azerbaijan.
"The main goal of the project is to meet the demand for industrial explosives used in mining and other industries, to eliminate import dependence by ensuring a continuous supply chain of mining and construction enterprises, and at the same time to create new jobs in the region," he noted.
Rizvan Bakhshiyev informed that the plant with a total area of 5,665 square meters is being built on an area of 15 hectares and its annual production capacity is estimated at 31,000 tons.
"The construction of the plan is planned to be completed and put into use by the end of this year. The enterprise, which will be built on the basis of modern production technologies, will produce H-ANFO, ANFO, explosive types used in the mining and construction industry in particular," he emphasised.
He noted that at the initial stage, it is planned to produce 500 tons of explosives per month and 6,000 tons per year according to the current demand of the country. In 2023, the demand for industrial explosives of AzerGold CJSC for blasting rocks in gold and iron ore mines is predicted to be 1,445 tons, and the demand of another subsidiary of CJSC - Dashkasan Demir Filiz LLC is 1,735 tons.
The total investment cost of the project is AZN14m ($8.24m). Approximately AZN5.5m ($3.24m) will be spent on construction works, and AZN4m ($2.4m) will be spent on the purchase and installation of equipment. Other funds provided for the project are operating costs.
"In conclusion, I can mention that the activity of the enterprise will be organized by AzerBlast LLC using the most advanced technologies and equipment," the director said. He added that according to the Environmental Impact Assessment document approved by the State Environmental Expertise Agency of the Ministry of Ecology and Natural Resources for the project, compliance of production with high environmental norms and standards will be ensured."