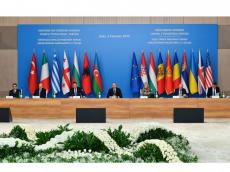 In 2022, there were several important milestones, which demonstrate Azerbaijan's and EU's joint commitment to energy security, Azernews reports, citing President Ilham Aliyev telling at the 9th Southern Gas Corridor Advisory Council Ministerial Meeting and 1st Green Energy Advisory Council Ministerial Meeting in Baku.
"There have been several important milestones last year, which demonstrates our joint commitment to energy security," the president said.
The president also spoke about the agreement signed between Azerbaijan and the European Commission back in 2022.
Azerbaijan and the European Commission signed "A Memorandum of Understanding on Strategic Partnership in the field of energy between the European Union represented by the European Commission and the Republic of Azerbaijan" on July 18, 2022, and referring to this document, the Azerbaijani president said on February 3 that it "actually is a clear roadmap for our future plans".
To note, the first Ministerial Meeting of the Southern Gas Corridor Advisory Council was held on February 12, 2015, the second meeting on February 29, 2016, the third meeting on February 23, 2017, the fourth on February 15, 2018, the fifth on February 20, 2019, the sixth on February 28, 2020, the meeting on February 11, 2021, and the eighth on February 4, 2022.
With the completion of the TAP (Trans-Adriatic Pipeline) construction on December 31, 2020, Azerbaijan began commercial gas supplies to Europe via the Southern Gas Corridor. The SGC is an initiative of the European Commission for a natural gas supply route from the Caspian and Middle Eastern regions to Europe. The route from Azerbaijan to Europe consists of the South Caucasus Pipeline, TANAP, and TAP.
In 2023, Azerbaijan plans to increase gas supplies to Europe to 11bn cu.m. As of 2022, Azerbaijan has exported 9.3 billion cubic meters of gas to Europe in the first 10 months and is expected to supply 11.5bn cu. m. of gas to Europe by the end of the year.