Vice Speaker talking about changes.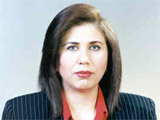 Azerbaijani government is to fulfill recommendations of the Council of Europe including proposal of the Venice Commission on structure of election commissions, said Bahar Muradova, vice speaker of Milli Majlis, commenting on the results of hearings on Azerbaijani November 6 parliamentary elections at PACE.
The main recommendations are related with free assembly, freedom of speech in the country. The vice speaker said changes to the Electoral Code are also not excluded.
Bahar Muradova expressed her hope that Azerbaijani parliament would reconsider decision of the opposition on boycott of work of parliament, repeated elections and formation of election commission structures as these issues are concern the government directly.
The Parliamentary Assembly was also against of position of several opposition parties that bases on boycott of work of parliament.