The minister of Communications of United Arab Emirates Sultan bin Saeed Al Mansouri received Eldar Salimov.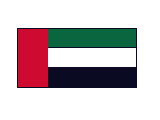 According to the information spread by the Emirates News Agency, cooperation in the fields of transport, aviation and communications was discussed in the meeting.
The meeting also reviewed trade between the two countries and the programme for the visit of Azerbaijan's Transport Minister to the UAE.
Al Mansouri said that Azerbaijan Air's six flights a week schedule to Dubai has contributed in increasing volume of trade between the two countries from 329 million dirhams in 2001 to 731 million dirham in 2004.
He also added that Azerbaijan is an important trade partner of UAE. "Azerbaijan currently seeks to develop its telecommunications sector which provides a great opportunity to the UAE to take part in the future liberalization of that vital sector in Azerbaijan," concluded Al Mansouri.