The heads of separatist Abkhazia, South Osetia and Dnestr regimes will meet in Moscow.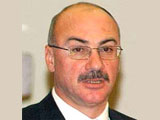 As APA informs, the Head of Abkhazian separatists Sergey Bagapsh left for the capital of Russia yesterday. Head of South Osetian separatists Edward Kokoyte is already in Moscow. Igor Smirnov, head of Dnestr separatists is also expected to visit Moscow soon.
The separatist "trio" coming together in Moscow will exchange views on different issues. The discussions will focus on the reactions of Georgia and Moldova to the Russian peacekeepers in the conflict zone.
It should be noted that, Arkadi Gukasyan, head of the separatists of Nagorno Karabakh have missed the meeting of the separatists for several times. According to the experts, it is due to the recent intensified process of talks on the solution of Nagorno Karabakh and different statements on the possibility of the solution of the conflict within this year: "Armenia is likely not to let Arkadi Gukasyan attend such meetings in such decisive situation".