The decision of PACE about the parliamentary elections in Azerbaijan deepened the contradictions in the positions of the parties in Azadlig Bloc.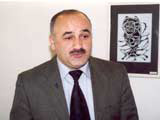 It is mainly connected with the participation in the repeated parliamentary elections and formation of election commissions. Some opposition parties expected the decision of PACE about the participation in each three processes.
According to Arif Hacili, the deputy leader of Musavat, this party didn't expect any sanction to be applied against Azerbaijan. Musavat will make a decision about the participation in the Parliament and repeated elections at the first ten days of February, says Mr.Arif Hacili.
But the initial position of the authority of party is obvious. Arif Hacili said that, the participation in the Parliament had some positive and negative sides, and they were discussing them, ANS reports.
He also added that the problem was very significant for Azerbaijan society, especially for Musavat. Then he stated that isolation from this process, may lead to extra problems for them, especially if they didn't have representatives in election commissions.
"The postpone of the meeting planned for today showed that government have not any interest in creating election commissions without opposition," says deputy, adding that Musavat will try not to have any mistake in the decision of defining the policy of Musavat in the nearest future.
Speaking about the different decisions of the parties including to the independence block, Mr. Hacili stated that, not the interests of block but of party were strengthened in the Parliament and election commissions. And Musavat also will consider its own interests.
But Nureddin Mammadli, the deputy of PFPA, thinks that if every party considers its interest it may cause some problems for the future of independence block. At its best, it may interfere to the election block to turn to the political block. According to Mr. Mammadli, the decision of PACE didn't change the position of PFPA who refused to participate in the Parliament and in formation of election commission. "It's out of sense to think that participation of some PMs in the Parliament can change the essence of the elections. The council of Europe has taken into account some realities on the recent electrons in its decision, and we should support the international organizations in the struggle to implement the recommendations of the CE."
Meanwhile, Ali Hasanov, Head of the President Office' public Policy Department, said the Government is interested in the opposition's participation in the election commissions and in the Parliament.
According to Mr. Hasanov, despite the time set for parties to cast their ballots to the Central Election Commission is over, it is still not late, as the CEC is not to be formed immediately. According to Ali Hasanov, the issue can be delayed till May, 2006.