The winter session of the Council of Europe Parliamentary Assembly which started on 23 January was over yesterday.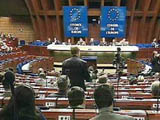 The special correspondent of APA in Strasbourg reports economic development of Europe, implications for Europe of the economic resurgence of China were discussed during the last sitting.
Azerbaijani parliamentarian Ganira Pashayeva gave information about the Baku-Tbilisi-Ceyhan main export oil pipeline which is to function fully this year. The parliamentarian stressed that, the conflicts in the Southern Caucasus are great obstacle for Azerbaijan and Georgia on the way of becoming the members of the united Europe. She underlined that, the aggression of Armenia against Azerbaijan, the occupation of its territories and hard living conditions of its refugees have negative impact on economic development of the Southern Caucasus region.
G.Pashayeva also stressed that, Armenia doesn't comply with a number of resolutions on the solution of Nagorno Karabakh conflict adopted by the UN and PACE. The winter session was over after the discussions.