The Presidents of Azerbaijan and Armenia will consider a working document on the peace resolution of the Nagorno-Karabakh conflict, Russian Ambassador Yuriy Merzlyakov, the OSCE Minsk Group co-chair, told.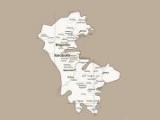 As to signing of any document on the results of the Paris talks between the Presidents Ilham Aliyev and Robert Kocharian, the diplomat said there was no document for signing, Trend reports. "This is a working document," he underlined.
Merzlyakov asserted the co-chairs' intention of touring Baku and Yerevan early February with a short-term visit to meet with the Azerbaijani and Armenian presidents. In reply to question whether the mediators will tour the Nagorno-Karabakh conflict region, the Russian Ambassador said that they would if they had time. The diplomat refused to go into details on the schedule of the visit of region and added that he would not say anything to avoid possible hindrances.
Earlier the Azerbaijani Foreign Minister, Elmar Mammadyarov, said that the OSCE Minsk Group co-chairs planned to visit Azerbaijan on 1 February 2006 and after leave for Yerevan on 2 February. The forthcoming Paris meeting of the Azerbaijani and Armenian is scheduled for 10-11 February 2006.