Former IA Minister will work with opposition.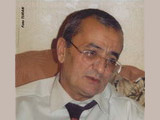 "I have not seen the people making statements on the unity of the opposition take decisive steps so far, particularly, after two years of my releasing from prison," Iskandar Hamidov, the chairman of the Azerbaijani National Democratic Party (ANDP), told.
The project on unification of the opposition was put forward by Ali Karimli, the chairman of the Popular Front of Azerbaijan Party (PFAP), after the 6 November 2005 parliamentary elections, Trend informs.
Hamidov said that he hoped in the unification of the opposition. "I'd be glad if it is possible, but I see that the opposition is doomed most likely to split-up instead of unification," he added. The chairman of ANDP underlined that he intent to cooperate only with constructive opposition. "We will work with the opposition, which bears its position," Hamidov stressed.