Georgiy Kaindrava to visit Baku.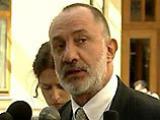 The Georgian State Minister, the chairman of the Commission on repatriation of population, Georgiy Kaindrava, will arrive in Baku on Sunday, the Georgian Embassy in Baku told Trend.
Khaindrava will be in Baku within 2-3 days and hold talks with the Azerbaijani senior officials. On 30 January he will give a news conference at the Georgian Embassy.