Gas crisis happened between Turkey and Iran like Ukraine and Russia.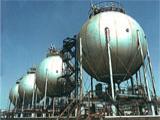 As APA reports, the reason for the crisis is Iran's decreasing the gas delivered to Turkey after the weather got cold. Iran had delivered 20 cubic meters gas to Turkey a day, but now it is 6 cubic meters only.
"Hot line" has been opened in Energy Ministry of Turkey, because of the situation. Energy Minister of Turkey Hilmi Guler said the problem might last 1 or 2 days and the population can not notice the problem and he contacted energy ministers of Russia and Iran, and ambassadors to the country.
As a result, Iran pledged to deliver 10.5 cubic meters gas to Turkey a day. At the same time, after prime minister Recap Tayyip Erdogan made a call to Russian president Vladimir Putin, Russia decided to increase the volume of the gas.