Karabakh Liberation Organization (KLO) decided to hold various protest actions to impede the visit of OSCE Minsk Group co-chairs to Baku on February 1.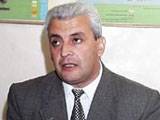 As APA reports, KLO chief Akif Naghi said that they would follow the visit route of the co-chairs: "OSCE Minsk Group co-chairs will not be allowed to express opinions against national interests of Azerbaijan in Baku. Their all gatherings will be under control".
A.Naghi does not rule out that hey will meet them at the airport named after Heydar Aliyev; he notes that, opposite side bears responsibility for any unexpected actions.