Yeni Azerbaijan Party (YAP) has made a decision on its candidates to be sent to Central Election Commission (CEC), YAP executive secretary Ali Ahmadov told.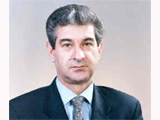 As APA informs, Ali Ahmadov didn't refer to their names and said that he didn't want to foretell anything: "The reasons for delay of discussions in parliament concerning formation of the staff of CEC are not related to YAP. Opposition parties, especially PFPA refused to send their candidates to CEC".
A.Ahmadov said that serious investigation was conducted in order to determine candidates for re-elections, noted that YAP would propose candidates in all constituencies. He expressed his hope for success of YAP candidates in re-elections.