Chiefs of the parties included in "Azadlig" bloc - Sardar Jalaloghlu, Isa Gambar and Ali Karimli have been invited to the gathering of Monitoring Group of Parliamentary Assembly of Council of Europe.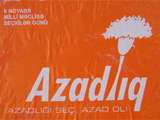 As APA reports citing Sardar Jalaloghlu, yesterday they received an invitation for participating at the gathering of Monitoring Group to be held on January 26.
As for their participation, S.Jalaloghlu said that leaders of "Azadlig" bloc would make decision after discussion: "There is no decision now on traveling with regard to this invitation".