U.S. Treasury officials visited Seoul on Saturday to discuss ways to stop North Korea's alleged illegal financial activities that Washington suspects were helping finance North Korea's pursuit of nuclear weapons.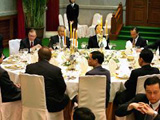 Daniel Glacer, deputy assistant secretary for terrorist financing and financial crimes at the U.S. Treasury, will stay in Korea until January 24 to discuss concerns about North Korea's counterfeiting of U.S. currency and money laundering, Reuters informs.
Glacer visited Hong Kong and Macau from Tuesday through Friday as part of a larger Asian tour that also includes stops in Beijing, Seoul and Tokyo.
The United States has clamped down on companies it suspects of aiding North Korea in counterfeiting, money laundering and the drug trade, which Washington says underpin North Korea's nuclear ambition.
Disarmament talks among the two Koreas, China, Japan, Russia and the United States have hit a snag since the last round in November 2005 because of the U.S. financial crackdown.