Iraq's Shi'ite Islamists were confirmed in power by election results on Friday that gave them a near-majority and paved the way for negotiations to begin on a national unity government promoted by the United States.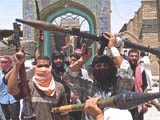 With Baghdad all but sealed off by security forces on alert for attacks by Sunni Arab rebels who accused the ruling Shi'ites of cheating in last month's poll, two civilians were killed in one of several bomb attacks on U.S. and Iraqi patrols, Reuters correspondent Alastair Macdonald reports.
Troops and police blocked off roads between Baghdad and the restive provinces of Anbar, Salahaddin and Diyala and were also hunting kidnappers who threatened to kill an American journalist by a Friday deadline; leading Sunni Arab figures joined Jill Carroll's family and colleagues in calling for her release.
Despite angry reactions to the rejection of their complaints about the December 15 vote, many Sunni political leaders are already discussing places in a grand coalition government and talks are expected to start shortly with Shi'ite and Kurdish groups.
The U.S. ambassador joined calls for Iraq's sectarian and ethnic communities to come together after the results to form a government of national unity; Washington hopes consensus can staunch the bloodshed and let it bring U.S. troops home.
The final results, which parties have two days to challenge, gave the Shi'ite Islamist Alliance 128 seats, 10 short of retaining the slim majority it enjoyed last year in the Sunni-boycotted interim assembly. The main Kurdish bloc won 53 seats, down sharply, while the two main Sunni groupings shared 55 seats -- winning 44 and 11 places respectively.
Former Prime Minister Iyad Allawi's secular list, looked on favorably by U.S. officials, has 25 seats, and seven other groups, comprising Kurds, Sunnis, Shi'ites, ethnic Turkmen and Christian and Yazidi sects won between one and five seats each.