Foreign Minister, Elmar Mammadyarov, is current on a two-day visit to Strasbourg, France, said Tahir Tagizade, the head of the Information and Press Department of the Ministry.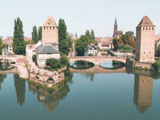 According to Tahir Tagizade, on the first day of the visit on Friday 20 January the minister is scheduled to meet with the Secretary General of the Council of Europe (??), Terry Davis, and the political director of the Secretariat of the Parliamentary Assembly of the CE, Matias Sorinas.
On January 21 he is to carry out talks with the chairman of the PACE, Rene Van der Linden, and the PACE Secretary General, Bruno Haller. The meeting will focus on the development of relationships with the Council of Europe, expansion of the interaction, and the situation in the region, Tahir Tagizade added.
/ANS/