Azerbaijan and Armenia held another round of talks on settling the long-standing Upper Garabagh conflict in London on Wednesday.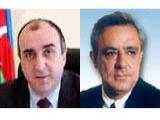 AssA-Irada informs, that Foreign Ministers Elmar Mammadyarov and Vardan Oskanian held meetings with co-chairs of the mediating OSCE Minsk Group. They also attended an event organized by the mediators, according to unverified reports.
On Thursday, Mammadyarov will hold a private meeting with Oskanian, followed by a news briefing.
Deputy Foreign Minister and the President's Special Envoy Araz Azimov is attending the talks as well. The ministers' London meeting comes as the continuation of the "Prague process", which envisions a stage-by-stage conflict settlement.
Mammadyarov stated last week that the sides are yet to agree upon several components. The ministers will also focus on a meeting of the two countries' Presidents scheduled for February.