"A statement of the chair of the Customs Committee of Armenia about existence of trade links between Azerbaijan and Armenia is nothing but nonsense".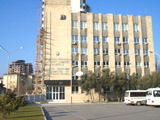 As APA reports according to the head of the press-service of the State Customs Committee Huseyn Mammadov. He noted that because Armenia had occupied lands of Azerbaijan establishment of any relations including economic-trade links with this country could not be a subject of discussions.
H.Mammadov bringing to the fore groundlessness of these rumors stressed that the statement by the Armenian customs chair's absurd and was not based on any fact.