Press service of Iranian embassy in Azerbaijan spread the statement concerning peaceful nuclear program of the country issued by Iranian President Mahmoud Ahmadinejad at press conference on January 14.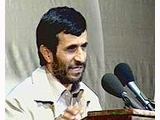 As APA reports, M.Ahmadinejad stated that Iran has right to use nuclear energy and has obeyed existing laws and rules in this field: "Iran is the only country that invites other country to co-operate in nuclear field. We call on those countries unsure about the nuclear activity of Iran to cooperate with us in this field; we will also cooperate with them. In this case, we will mutually have opportunity to oversee one another's activities. We have said many times that Iranian people do not need nuclear weapon. Our nation is cultured, civil and historic one. A nation with culture, logic and civilization do not need any nuclear weapons. Those intending to solve everything by force willing nuclear weapon. We state that there is no ban on nuclear research as well as there is not such a ban in Treaty and Protocol on non-proliferation of nuclear weapons. We should be anxious for the nuclear arsenal that some western countries possess and conduct examinations in these countries to annihilate these weapons. The very countries have to bear responsibility before the world for producing of nuclear weapons and nuclear, chemical, bacteriologic weapons have to be annihilated".
Iranian President accused some countries of being biased: "A number of countries prepared such condition: "Whether you will do what we say, or we'll refer you to Security Council". Why do they discredit International Organizations? Security Council was set up to create global security. Is this Council an instrument in the hands of those countries threatening us that they should make us accept what they say? We think that Security Council is not an instrument in the hands of some countries, it belongs to all nations. Why do some misuse it? Isn't this one-sided policy leading global security to the abyss?"