The head of Russian Federal Security Service (FSS) Nikolay Patrushev in the interview to the "Russian", has expressed satisfaction with cooperation of special services of the foreign states, including Azerbaijan's.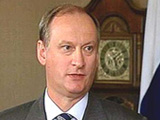 According to AzerTAj, Mr.Patrushev has told that FSS actively cooperates with foreign special services and law enforcement bodies since 1992, and first of all, this cooperation has been adjusted with the CIS states. As he said, especially actively cooperation is carried out in the field of combat against terrorism, illegal migration, smuggling, including radioactive materials, illegal circulation of the weapon, drugs, means from which frequently go on financing of terrorist activity. It has been marked, that intensity of data exchange constantly increases both with colleagues from the CIS states (Azerbaijan, Belarus, Kazakhstan, Uzbekistan and Ukraine), and from the countries of far abroad.
Concerning the question on cooperation with partners on fight against terrorism, N.Patrushev informed, that special services of the Russian Federation in interaction with foreign partners stopped activity of some of international terrorist organizations supporting extremists in Chechen Republic. "Here, we have interaction. As a result of actions, carried out together with colleagues from Azerbaijan, Kazakhstan, Georgia and Uzbekistan, a number of people wanted for crimes have been detained and extradited to Russia. Their information centers in Azerbaijan and Poland were closed. And criminals that were hiding in Russia were extradited to these countries", the head of FSS noted.
As example, N.Patrushev marked cooperation with Azerbaijan. He has told, how forces of FSS had detained the participants of a dangerous criminal group working in territory of Azerbaijan. Criminals among whom there were also employees of law enforcement bodies, kidnapped people, extorted from them money and killed. After exposure many of them have disappeared from prosecution in Russia, but now some of them have been detained and extradited home.
Nikolay Patrushev also in detail spoke in the interview to the newspaper about interaction of special services of Russia with the countries of far abroad. He especially stops on prospects of joint combat against new threats of the twenty first century.