Leader of Azerbaijan National Union Movement (ANUM), elected candidate from Yasamal ConEC 3 #17 Lala Shovkhat Hajiyeva made her step on refusing the deputy mandate official.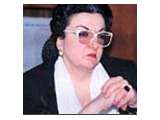 As APA reports, L.Shovkhat informed about it in her press conference today and stated that she had applied to the Central Election Commission for this.
Stating that she participated in the elections with the political team composed of 70 candidates, L.Shovkhat underlined that, the victories of at least 11 candidates of ALP and about 50 candidates of its ally "Azadlig" bloc were not confirmed by the court and the CEC: "The National Union Movement together with "Azadlig" bloc declared that they don't recognize the results of the elections and that consider the parliament illegitimate on 8 November. We, 9 elected candidates issued our second statement on refusing our mandates in case false results of the elections are confirmed by the Constitutional Court in the republic-wide forum attended by about 600 candidates whose rights were violated on 16 November. Regrettably, the Constitutional Court confirmed the results of the elections".
Lala Shovkhat noted that the violence of police on the protesters during 6 November rally played a role in her refusing the mandate. Lala Shovkhat also added that her electors will understand her decision in right way: "I stated during my first meeting with my electros that if the opposition appears to the minority in the parliaments I cannot solve their problems".
According to the leader of the movement, the opposition leaders should be decisive in the current political situation. Lala Shovkhat noted that she hopes the parliamentarians from "Azadlig" bloc will also take the same step: "I stated in my last meetings with the bloc leaders that the decision on refusal of the mandate should not be delayed. I told them that I was waiting for their decision. The PFPA has made its decision concerning this. I hope Musavat Party will act in the same way. We shall have to review our relations with Musavat if it doesn't do that".
It should be noted that, this is Lala Shovkhat's third refusal. She resigned from the post of state secretary and refused to be ambassador of Azerbaijan to the UN.