Second meeting of the Azerbaijan-Egypt intergovernmental commission will be held in Cairo on December 25-26.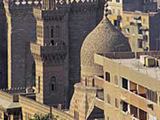 Commission headed by the Minister of Economic Development Heydar Babayev and the Minister of Foreign Co-operation Fayza Abul Naga from the Egyptian is expected to sign numerous documents during the meeting in Cairo.
According to the Egyptian ambassy in Baku the comission will sign protocols, memorandum on mutual understanding and agreements on finances, pharmacology and health, tourism, air transportation, ecology, money transfer, and archive.
APA