Azerbaijan continues its efforts on admission of the country to the World Trade Organization.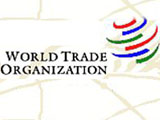 "Bilateral talks are held with member countries of WTO in order to be admitted to the World Trade Organization. Talks have already been held with two countries and positive results were obtained," told the Minister of Economic Development Heydar Babayev.
The minister said that the legislation is being analyzed at present: "We must prepare proposals and present them in order to be the member of the organization. It is important for Azerbaijan to enter WTO, however, we must act so that our admission to WTO does not damage our economy. On the contrary, it should create appropriate conditions for Azerbaijan".
APA