Azerbaijan and the European Commission start discussions under the EU's European Neighborhood Policy in Baku today.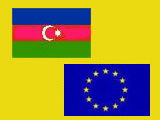 Yug Mingarelli, the head of the East Europe, South Caucasus and Central Asia Office of the European Commission will visit Baku to open the consultations in Baku. He will lead a top delegation of the European Commission. Mingarelli will participate only in the opening of the talks, which will continue on the level of experts.
Mahmud Mammad-Guliyev, the Azerbaijan Deputy Foreign Minister, will lead the Azerbaijani delegation at the talks.
Trend