"Azadliq [Freedom] election bloc did not accept the initiative of the National Survival Movement on consolidation of the opposition in a single center neither before nor after the elections," said Faraj Guliyev, the leader of NSM.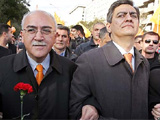 The slighting attitude of "Azadliq" bloc to the issue did not remain without a reply. "Despite repeated invitations, our movement did not participate in the rallies organized by the bloc," Guliyev said.
He also reported that they signed an agreement with the Popular Front Party of Azerbaijan (PFPA-classics) and the Azerbaijan National Democratic Party that stipulated new stage of cooperation between the mentioned parties. "Other parties will join the agreement in the future. We have received similar proposals," F.Guliyev stressed.
F.Guliyev did not exclude that this cooperation might lead to establishment of a single party in the future.
Trend