Human Rights Watch calls European Union to exert pressure on Armenia, Georgia and Azerbaijan for them to improve protection of human rights and condition of freedoms.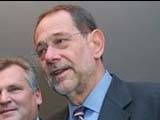 Havyer Solana, commissioner of EU on foreign policy and security issues will conduct eyer to eye discussions with the foreign ministers of Azerbaijan, Georgia and Armenia on December 13.
Discussions will be conducted at the meeting in the framework of Europe neighborhood policy that will allow the commissioner to exert pressure on the countries in order to make the headway in the field of human rights.
APA