"Special group was formed in the Council Europe (CE) to investigate whether there is any confidential prisons of the US Central Intelligence Agency in the Council of Europe member countries and the group checks this information at present," said special representative of Council of Europe Secretary General to Azerbaijan Mats Lindberg.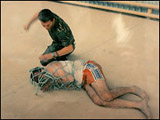 The group will visit countries that are suspected of hosting the confidential prisons, however, Lindberg stated the CE does not believe in existence of such prisons in Azerbaijan. "I do not think that such prison exists in Azerbaijan," said Lindberg.
It must be noted that, CE Secretary General Terry Davis addressing to 46 member states, asked them to give information whether there are any confidential prisons belonging to the US on their territories.
APA