The OSCE Minsk Group co-chairmen will pay a visit to the region of the Nagorno-Karabakh conflict from 14 to 17 of December," Yuriy Merzlyakov, the Russian co-chairman of the OSCE Minsk Group, told Trend exclusively.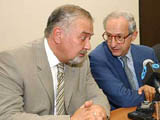 Mediators will be on a visit to Yerevan from 14 to 15 of December, Baku - from 16 to 17 of December. The co-chairmen will not visit Nagorno-Karabakh due to lack of time. "We will evidently meet with the current leadership of Nagorno-Karabakh in Yerevan," Merzlyakov added.
The Russian diplomat positively appreciated the consultations of the OSCE Minsk Group co-chairmen held with the Azerbaijani and Armenian Foreign Ministers in Ljubljana on 5 of December. "We have handed over proposal packet to the sides to give them a chance to think over the proposals and reply," he said.
Merzlyakov reported that the date and place of the January meeting of the Presidents had not been determined yet. "It will be determined during the visit to the region. The Presidents must say it to us," he concluded.
Trend