On Wednesday the US Ambassador to Azerbaijan, Reno Harnish, met with the opposition leaders at the headquarters of the Popular Front Party of Azerbaijan (PFPA). Attending the meeting were co-chairs of "Azadliq" elections bloc: Isa Gambar, Ali Karimli, Sardar Jalalogly, as well as the leader of the National Unity Movement, Lala Shovkat.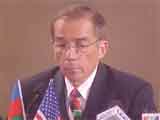 Ambassador Harnish told journalists that the two sides had efficient talks. "I spoke about the implementation of further projects targeting support to democracy in Azerbaijan. They shared opinions on the recent parliamentary elections in Azerbaijan," said the diplomat.
After the talks Ali Karimli, the co-chair of the "Azadliq" bloc, said that they focused on the post-election situation in Azerbaijan. "The leaders protested againts the US approval of the decision of the Constitutional Court," Karimli added
"Coming out with the official statement we voiced our indignation and surprise on the positions of the US Department and the embassy. During the meeting with the Ambassador we protested against it.
Harnish in his turn said that they will think over the arguments, that were put forward at the meeting and promised to do his best for an achievement of progress in the sphere of democracy in Azerbaijan.
"We decided to continue discussions," Karimli underlined.
Karimli said that during the meeting both sides held their ground. The US Ambassador did not refute statement by the US Department of State and did not say that his country would change its standpoint. Harnish noted that the United States will agree upon the final report of the OSCE on the parliamentary elections.
Trend