The meeting of the GUAM (Georgia, Ukraine, Azerbaijan and Moldova) national coordinators is planned in late December.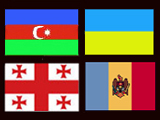 Such decision was made at the meeting of GUAM Foreign Ministers on Monday in Ljubljana with participation of Foreign Ministers: Elmar Mammadyarov of Azerbaijan, Gela Bejuashvili of Georgia, Boris Tarasyuk of Ukraine, Andrei Stratan of Moldova, the Azerbaijani Foreign Affairs Ministry told Trend.
The meeting will focus on drawing up the constituent documents of the GUAM as an international organization. The documents will be presented to the Ministries and to the summit of the organization after their approval.
APA