Whole Popular Front Party of Azerbaijan (WPFPA) made decision on participating in re-elections to be held in the election constituencies where results were annulled.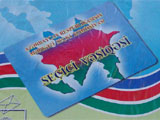 According to the information given to APA by the press service of the party, although WPFPA intends to take part actively in re-elections, it considers investigation of the irregularities committed during November 6 elections to be important. "All irregularities committed in the election process have to be seriously scrutinized, analyzed and amendments and changes have to be made into the Election Code," stated the press service.
The information says that rights of some winner candidates of WPFPA were violated in the previous elections; the real results were not reflected in the protocols.
APA