Baku Mayor Office has not yet responded to the appeal of "Azadliq" bloc to allow a rally on December 10.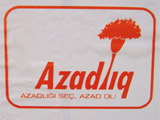 Head of socio-political department of the executive power of Baku Zaur Ramazanov told APA journalist that the appeal placed by "Azadlig" bloc is discussed at the moment by the Mayor's Office.
Ramazanov noted that the square for holding the rally this time will be known after the discussions are over.
APA