"The Nagorno-Karabakh status can be resolved only within the framework of the legal, peaceable and democratic process, which cannot be based on ethnic cleansing," Elmar Mammadyarov, the Azerbaijani Foreign Minister, said in his address to a meeting of OSCE Foreign Ministers in Ljubljana.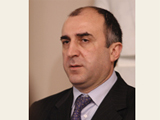 Mammadyarov said that status of Nagorno-Karabakh can be defined only in case of necessary and equal consideration of standpoints of the Armenian and Azerbaijani communities residing in Nagorno-Karabakh side by side.
"The liberation of occupied territory of Azerbaijan is a major preliminary term to make it real. Upon withdrawal of the Armenian troops from the occupied territory all transport corridors should be open for both sides. For efficient peace the Armenia and Azerbaijanis
will jointly use the Lachin corridor in both directions. The Azerbaijani government is ready to assist both communities of Nagorno-Karabakh region for rehabilitation of infrastructure of the region through attracting investments," Mammadyarov underlined.
He noted that a process of definition of Kosovo status, irrespective of the outlet, should not cause any precedent. "The next year is expected to be a breaking in the resolution of a conflict in Kosovo. Firm and unambiguous position of Azerbaijan is that the process should be implemented in line with UN Security Council's Resolution 1244 and on the basis of Helsinki Final Act and irrespective of the outlet, it should not cause any precedent," Mammadyarov underlined.
Trend