The meeting of working groups of Azerbaijani and Russian state commissions on delimitation held in Baku today.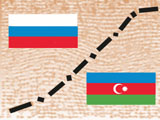 A meeting of the intergovernmental commission on state border delimitation between Azerbaijan and Russia started in Baku on Tuesday. In his opening remarks Khalaf Khalafov, the Deputy Foreign Minister, also the co-chair of the commission, stated that the political dialogue between the two countries were in high level.
Khalafov said that the relationships between Azerbaijan and Russia were developing dynamically in the political, economic and humanitarian sectors. "The existing potential and character of bilateral relationships enable to speak about strategic partnership between the two countries. The bonds between Azerbaijan And region of Russia also develop successfully," the Deputy FM underlined.
According to Khalafov, the issue of delimitation of state borders is important for Azerbaijan like Russia. The work was successfully implemented under the rapt attention of the heads of two countries. He voiced his hope that the next meeting will a step forward in the resolution of the border delimitation. The successful cooperation in the border and normal functioning of the system provide favorable terms for closer relationships.
"Great work has been done and we are in the final stage," the Russian FM, also co-chair of the commission, Alexander Yakovenko said. The sides should take into consideration the interests of the border districts.
The commission will complete its work on 9 December
Trend